Table of contents:
Introduction
Understanding the Diwali Market Trends
Creating an Attractive Diwali Product Catalogue
Innovative Diwali Influencer Campaign Ideas
Diwali Shopping Guide Campaigns x Kofluence – A Success Story
Conclusion
Introduction
Influencer marketing has now been seen as a beacon of light in the marketing realm, being the go-to option for brands to promote themselves during the festive season. As of 2022, spending during the festive season was at a staggering $32 billion, which shows the vast opportunities that brands can make the best out of.
For a festival like Diwali, consumers go all out on buying a wide variety of products that are required for the occasion, such as traditional clothes, lights, sweets, snacks, crackers, and so much more. A study conducted found that 84% of the participants preferred to purchase luxury goods and apparel for the Diwali festival, while 80% preferred to purchase gold.
Of the individuals who intend to spend more, 68% mentioned that they are inclined to raise their expenditure on new clothing, while 65% expressed interest in increasing their spending on gold and jewellery. Additionally, 64% of the respondents plan to allocate more funds towards Diwali food items and gifts for their family, and 64% intend to do the same for their friends and colleagues.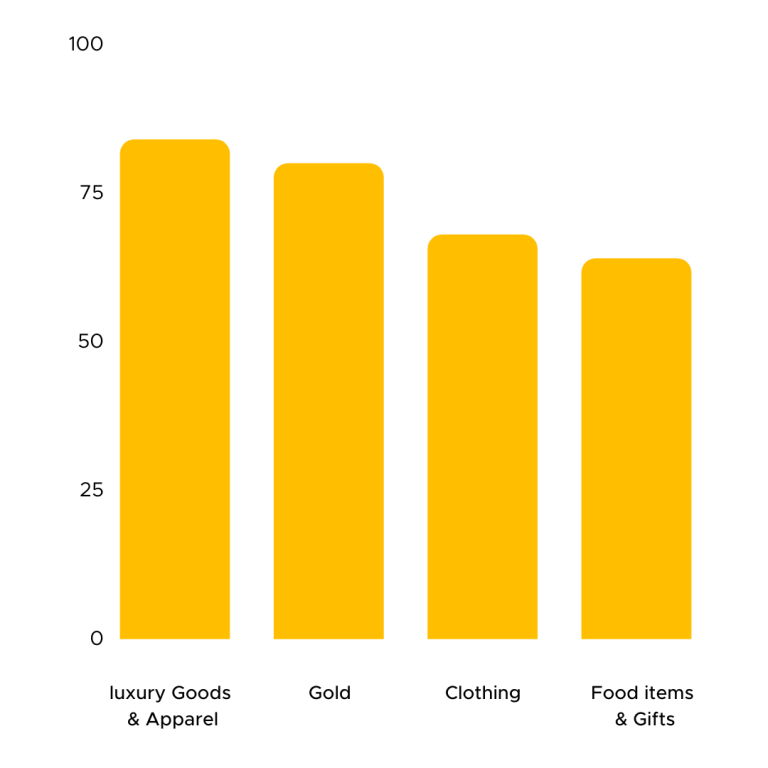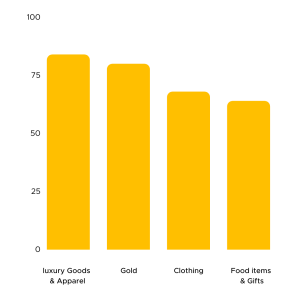 Since Diwali consists of a variety of important goods that people are willing to purchase, with each commodity having an array of options and choices, it may tend to confuse consumers. This is where influencers step in as a Diwali shopping guide to every shopping experience for the Festival of Lights.
Their recommendations combined with the trust their audience has in them clarify that the best option among a variety of products is the product of the brand they are working for. It is crucial that brands work proactively, strategising their campaigns to accommodate a robust Diwali shopping guide by influencers.
Understanding the Diwali Market Trends
Trends are a factor that influences a wide range of economic activities during Diwali. Being a major economic event in India, brands must make the best of this time and understand the market trends- what people wish to buy during this time, what has grabbed their attention lately and the untapped opportunities that can be exploited.
From new fashion trends to social media trends, brands must do some basic homework before creating a Diwali shopping guide by influencers. 
Analyzing Past Diwali Sales Trends:
Diwali 2022 witnessed a 17% YoY increase in online sales compared to 2021. This is one of the many statistical analyses brands can use to understand past Diwali trends, as it shows where the market is going. They can also research the product categories that consumers use the most, what their opinions are on certain brands and how they have changed over time.
They can compare past influencer marketing strategies that have worked and try to replicate or better them.
Identifying Popular Product Categories:
Discounts and offers flood the festive season, the best time to analyse the demand for products during Diwali. From gifting options to home decor, people have various reasons to purchase particular products. But brands can strategically place their Diwali shopping guide with influencers based on how much demand they can expect for their products during the festive season. 
Evolving Digital and E-commerce Trends:
Brands must understand what grabbed consumers' attention on e-commerce websites during Diwali. E-commerce websites are utilised most during this time due to their ease of use, availability of attractive discounts and widespread usage.
Therefore, shopping guides with influencers must include information on the types of discounts available for the brand's products and where they can find it. For such a Diwali shopping guide, extensive market research is required.
Cultural and Regional Variations:
Every festival in India is celebrated in different ways, sometimes on different days and for different periods of time. In the case of Diwali, it is more widely celebrated in the northern state of India as compared to those in the South. Moreover, the rituals, traditions, clothing and designs vary too.
Keeping this in mind, brands must analyse the demographics of the target market and the influencers they work with so that their campaigns can be more relatable and effective.
Creating an Attractive Diwali Product Catalogue
Collaborative Product Curation with Influencers:
An innovative and attractive product catalogue can be much more impactful than a normal video by influencers. Catalogues show a wide range of options and endless possibilities of mixing and matching various products within said catalogue which can be depicted through influencers.
For this to happen, brands and influencers must collectively decide what should go on the Diwali shopping guide. This can help brands promote the products they wish to and influencers promote products that match their tastes and aesthetics. 
Exclusive Influencer-Endorsed Collections:
Consider collaborating with influencers to create exclusive Diwali collections. While promoting products, influencers must show items that match their tastes and interests. An influencer whose page is about Indian traditional wear would not find it right to promote Western-themed clothes.
It will not grab the attention of their audience and will not be very effective. Nuances such as the interests of influencers go a long way. For example, brands can personalise their Diwali shopping guide for the influencer's audience by making one with only their favourite colour.
Thematic Influencer-Driven Design:
Work closely with influencers to design the catalogue in a way that resonates with their audience. This may include incorporating the influencer's personal brand elements, such as colour schemes, visual motifs, or messaging. By doing so, the Diwali shopping guide extends the influencer's online presence, strengthening the connection with their followers.
Innovative Diwali Influencer Campaign Ideas
Innovative Diwali influencer campaigns provide brands with a unique opportunity to stand out in a crowded market and engage with their audience in creative and meaningful ways. These campaigns leverage the creativity and reach of influencers to create memorable experiences and drive Diwali sales. Here are some compelling ideas for innovative Diwali influencer campaigns:
Virtual Diwali Celebration with Influencers: Live-streaming experiences that influencers have can help their audience relate to them on a personal level. Typically, these experiences include visiting different places during Diwali, sharing their traditions, and sharing tips on how to enjoy Diwali to the fullest.
These live streams can also be used to promote products and catalogues as a Diwali shopping guide where influencers provide direct and real-time information about the products a brand has to offer. In this way, audiences will be more engaged and influencers can immediately answer their questions through live chat.
Influencer-Driven Charity Initiatives: Diwali and other festivals as part of the festive season commemorate charity and goodwill, where people give back to society. Influencers who do this during a festive season are looked at more favourably, as their generosity captivates the attention of their audience.
This image can also be passed to brands who collaborate with such influencers. A good example would be influencers promising to donate to charity for a certain number of purchases from a product catalogue they are endorsing. 
Augmented Reality (AR) Try-Ons: Augmented Reality (AR) is a new and exciting future that social media platforms are stepping into, especially Instagram and Meta. Brands can provide technical resources to influencers where they can try out products through AR technology and distribute this tech to their audience too. This special offering can be the new talk of the town.
Influencer-Hosted Diwali Challenges: Contests are a great way to keep an audience on their feet. Influencers, once introducing a catalogue of products to their audience, can host contests that utilise the same products. For example, if an influencer is promoting a home decor catalogue, they can introduce a contest where they challenge their audience to decorate their homes with the help of the same Diwali shopping guide.
Influencer-Hosted Diwali Gift Guides: Gifting during Diwali typically includes small quantities of various products, depending on their nature. Moreover, these gifts always either have some traditional value or are for homes. Keeping this in mind, brands can curate a Diwali shopping guide specifically for gifting that influencers can promote. 
Diwali Shopping Guide Campaigns x Kofluence – A Success Story
GoColours
Under the #GoodToGo campaign, Kofluence helped GoColours reach a new high in terms of reachability and engagement. For the months of September to November 2022, Kofluence helped GoColous conceptualise and execute a variety of creative reels such as GRWM videos, outfit inspirations and more!
This campaign managed to spread far and wide, as macro and micro-influencers involved themselves in this campaign to get amazing results!
| | | |
| --- | --- | --- |
| 80% organic positive comments | 200k+ engagement | 2.68M+ reach |
Conclusion
Influencer marketing is a blessing for brands willing to stand out from the crowd during Diwali. Shopping guides are an innovative way to show an influencer's audience the variety of products brands have to offer and promote engagement, creativity and authenticity.
While influencers can showcase their personalised catalogues as a Diwali shopping guide, brands must also realise that by working with multiple creators, they create a macro-catalogue- a large-scale Diwali shopping guide by influencers.
This is a major contributing factor to improving sales and reachability. As the Festival of Lights approaches, let this guide be your source of inspiration, guiding brands toward a luminous Diwali season in 2023.
If you found this blog to be helpful browse through our website for other blogs on similar topics or get in touch with us for your next influencer marketing campaign! Download the Kofluence app and find relevant campaigns catering to your target audience! To opt-in, download the Kofluence app here: iOS users, and Android users.